Takes advantage of extensive access to information and people.
Continues his career in newspapers working as a senior sub-editor (casual) on The Australian, and writing columns for the Newcastle Herald.
Researches, writes and edits reports.
Interviews, researches and writes opinion, feature, news, and profile stories for print and online media.
Writes and edits media releases.
Edits and oversees tenders.
Writes blogs.
Writes and edits newsletters.
Liaises with clients to produce effective website copy.
Maintains solid relationships with graphic designers, printers and publishers.
Preserves strong networks across media, government and corporate sectors.
Understands the value of clear, accurate and concise communication, especially when conveying detailed information.
Provides a compelling approach to all assignments, and meets deadlines.
"On very short notice, Darrell helped the comms department pull together our divisional reports to write a comprehensive business summary and plan."
Mark Elliott, CEO, Calibre Global
Master of Arts, University of Sydney (Australian literature)
Bachelor of Arts Honours, University of Sydney (Australian literature)
Graduate Diploma in Education
Graduate cadetship with AAP-Reuters
Senior news agency and newspaper editor, sub-editor and journalist
Newspaper experience with News Corp (The Australian, The Daily Telegraph, The Sunday Telegraph), Fairfax (The Sun-Herald, the Newcastle Herald) and Rural Press (the Northern Daily Leader)
Government experience writing and researching for Legislative Assembly, and Regional Development
Wide-ranging involvement writing and coaching in the corporate and not-for-profit sectors
Corporate Clients Include
Aboriginal Resources Group
Accor
AMP Financial Planners
BHP Billiton
Calibre
Care Pharmaceuticals
Coffey
Crowe Horwath
Eagleview Financial
Fairfax
Forsythes Recruitment
HyperWeb
IHG
Kasada
Legislative Assembly
Local Government Association of NSW
Macquarie Bank
Measured Marketer
News Corp
NRMA
Paradice Investment Management
Playfair Tan
Regional IT/SaberVox
Santos
Sullivan Nicolaides Pathology
Tenix
University of Sydney
Vincent Fairfax Family Foundation (Cambooya)
Woodside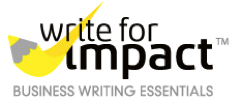 The easiest way to increase productivity, win more business, and enhance your company's reputation, is to improve communications. Write For Impact shows you how: